Sensitivity Analysis: Effects of Prospecting Effort
The Army Recruiting Command directed a considerable effort toward encouraging the recruiter to make more prospecting telephone calls. We personally observed "Red Time" requirements where recruiters were required to make a quota of telephone calls each day[1]. Our model, however, questions the impact of increasing the number of prospecting telephone calls.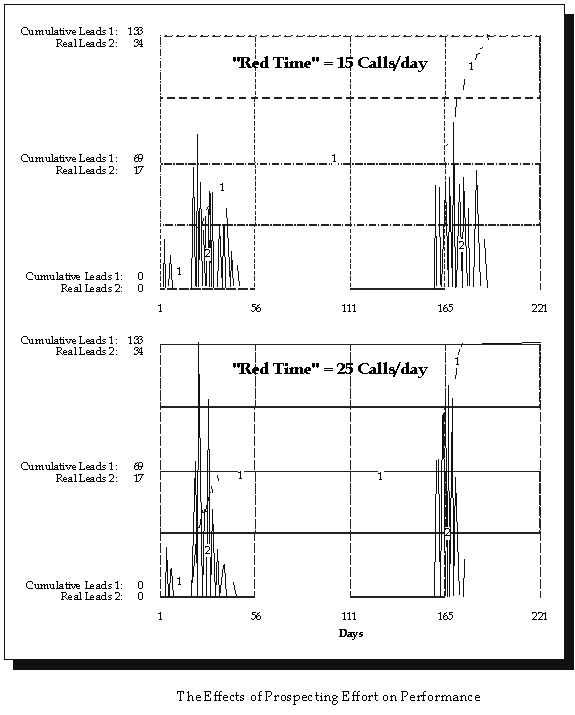 The simulation model was run twice to investigate the effects of prospecting telephone calls. The first run established the baseline Applicant Pool and Recruit Pool data presented in the preceding section. For the second run, we increased the number of prospecting telephone calls from 15 per day to 25 per day. With an almost 50% increase in the number of prospecting telephone calls, one might expect to see an increase in contracts, or at least contracts written earlier during the 221 day simulation period. The computer simulation, however, suggests that increasing the prospecting rate has NO IMPACT WHATSOEVER on the Applicant Pool or the number of Recruits.
With hindsight, these results are easily explained.

Increasing the prospecting rate only affects the number of current prospects.

When a recruiter increases his prospecting rate, he fills the Prospect Pool earlier (See above), and in larger increments.

The rate at which the Prospect Pool is emptied, however, is constrained by the fact that selling is a one-on-one task.

As long as the Prospect Pool is not empty each day, recruiting as measured by the size of the Applicant Pool and the number of Recruits will not suffer from fewer prospecting telephone calls.

A recruiter has merely to make enough contact calls to assure that each day he has at least one sales opportunity.
Effects of Sales Time

See Sales Time for more details.
---
[1]In Appleton, Wisconsin, we observed "Red Time" at 5:00 PM on a Friday afternoon in Spring when virtually all of the Appleton youth were at the Appleton City Park playing softball, touch football, picnicking, etc.
---